Congress Registration Fee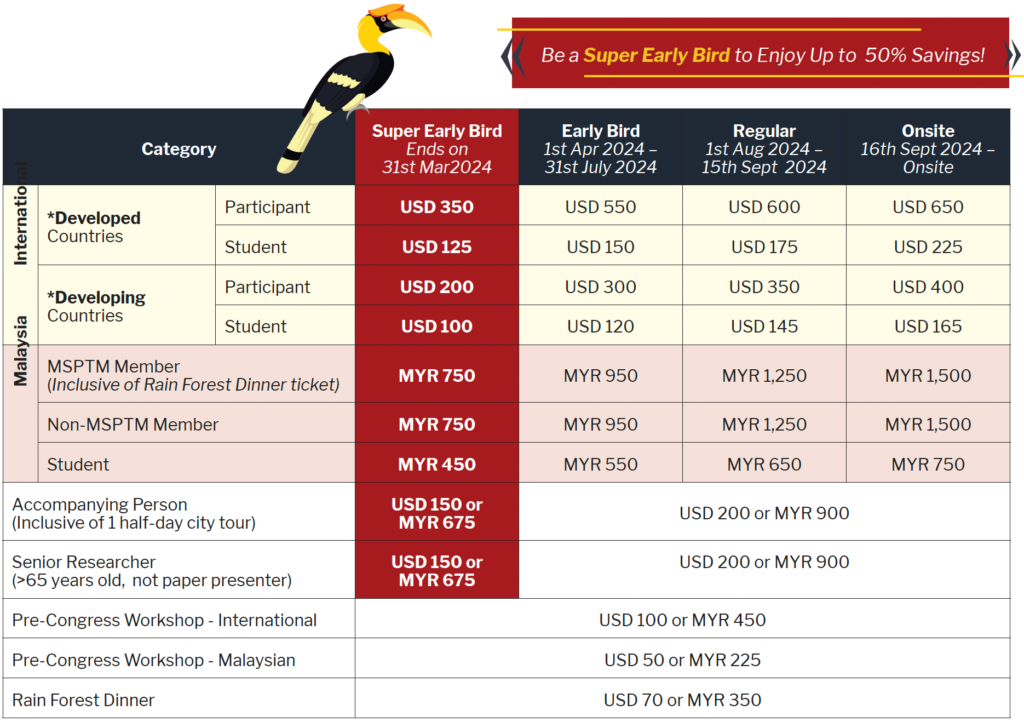 *Developed (High & Upper Middle-Income countries) and Developing (Low and Lower Middle-Income countries) are categorised based on the World Bank income classification. Please refer to the list here.
The full registration fee covers 5-days congress with meals during refreshment breaks and lunches, congress collaterals, access to all the scientific sessions, exhibition, welcome reception, and all general social programs. It does not include the congress Rain Forest Dinner ticket, accommodation, airport transfers, flights, and tours.
Registration fee for Accompanying Person includes access to exhibition area, refreshment breaks and lunches, opening ceremony, welcome reception, closing ceremony and 1 half-day city tour. It does not include the congress Rain Forest Dinner ticket, accommodation, airport transfers, flights, and tours (other than the 1 half-day city tour provided).
Senior Researcher registration category is applicable to researcher age >65 years old, who is not a paper presenter. Submission of the identification is required upon registration.
Workshop participants must register for congress.
A full-time student must be enrolled at an educational institution for the academic school year(s) 2023 – 2024. Please upload your student ID card or letter from the institute during registration.
Online Credit Card Payment (Visa/MasterCard only)
The amount reflected in the Credit Card statement will be in the currency of the cardholder's country of origin. Transaction description to be appeared on Credit Card statement shall be "MSPTM-ICTMM 2024". If an invoice is requested, the amount paid will be reflected in MYR only.
Telegraphic/ Bank Transfer/ Wire Transfer/ Bank Cheque (Applicable to Malaysia's Local Bank Cheque only)
Please make payment before registering online as registrant is required to upload proof of payment for verification. Bank charges are to be borne by the payer.
Local Purchase Order (LPO), applicable to Malaysian Government Agencies only br> The original copy of LPO must be received by Congress Secretariat by 15th August 2024 to confirm your participation
Notification of Registration Confirmation will be sent to your registered email upon full payment received. Please present the registration confirmation email at the registration counter during the congress.
ICTMM 2024 bank detail:
Account number: 873194725667
Account name: Malaysian Society of Parasitology and Tropical Medicine Events
Bank name: Standard Chartered Bank Malaysia Berhad
Bank Address: Lot 4 & 5, Level G2, Publika Shopping Gallery, Solaris Dutamas, No.1 Jalan Dutamas1, 50480 Kuala Lumpur
Branch: Publika Branch
Switch code: SCBLMYKXXXX
All paid registrations are transferrable on or before 31st July 2024. Transfer requests must be made by e-mail to the Congress Secretariat (secretariat@ictmm2024.org). The new participant should complete the online registration form by 31st July 2024. Transfer of registration will not be allowed on or after 1st August 2024.
Cancellation and Refund Policies
All cancellation of registration must be done in writing and submitted to the Congress Secretariat (secretariat@ictmm2024.org) on or before 15th June 2024 to receive a full refund. Please note that administration fee of MYR250 will be charged.
Cancellation made after 15th June 2024 or 'no show' is liable for FULL registration fee.
All refunds will be made in MYR at the prevailing foreign exchange rate.
Refund for cancellations will be made within three months after the congress.
Any charges imposed by banks and Credit Card issuers will be borne by the Registrants.
The Organiser reserves the rights and will inform Participants on any alteration to any of the arrangements for the congress including the cancellation of the event should unforeseen circumstances require such action.
In the special circumstances that the entire event is to be cancelled, the Organiser will refund the registration fee to the Participants. However, the Organiser will not be liable for other associated costs, e.g. accommodation and travelling expenses, and any inconveniences incurred to the Participants due to the cancellation. Therefore, Participants are advised to arrange for their own travel insurance.
Letter of Invitation (for Visa Application)
Registrants must possess a valid passport for travelling to Malaysia, with a validity period of at least six (6) months beyond the time of stay allowed in Malaysia. Registrants may request Visa Invitation Letter via email to the Congress Secretariat (secretariat@ictmm2024.org). Please note that it is the sole responsibility of the Registrant to obtain the necessary paperwork for the entry into Malaysia. The invitation letter will only be provided to Registrants who has registered and paid in full for the congress. This letter will facilitate but does not guarantee that you will be granted a visa.
Visa requirements are dependent on the country of origin and last port of disembarkation before entering Malaysia. For detailed information on visa applications, please visit: http://www.imi.gov.my/index.php/en/main-services/visa/visa-requirement-by-country. Registrants can also contact the nearest Malaysian consulate to confirm visa requirements.
The Organiser reserves the right to make changes where deemed necessary, with or without prior notice to parties concerned. All disputes are subject to the Malaysian Law. By submitting your registration, you have authorised the organiser to use all registration data given in this form for computerised handling of the congress.